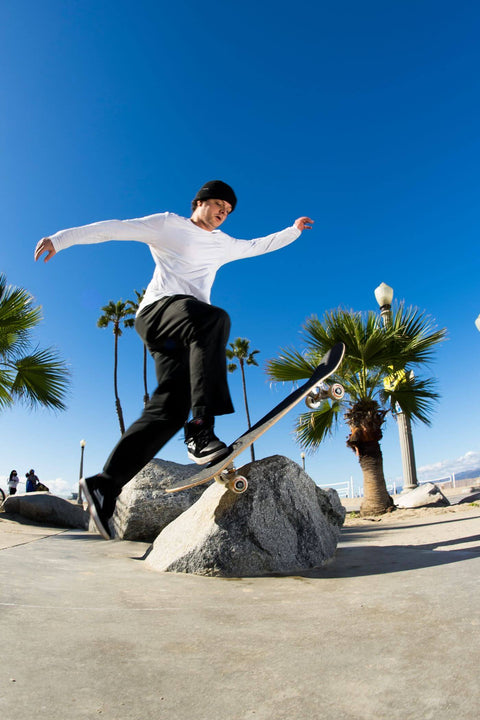 Your quarterly Music to Skate to playlist curated by the team @ Fireball. Volume 6 mixes some classic punk with hip-hop, rock, dub and more. Not into it? Scroll down the page and check out the past editions...
Why Music To Skate To?
Skateboarding and music have always had a strong connection. 'Music To Skate To' is a series compiled of our favorite songs for Skateboarding, featuring a mix of classic punk rock, modern hip-hop, and other genres that will get you hyped up and ready to ride.
Even now, the songs featured in the OG Tony Hawk's Pro Skater (THPS) series are still considered to be a major influence on the Skateboarding culture and music. The game's soundtrack continues to be a staple in the genre, and it's not uncommon to hear these tracks playing in Skate shops and competitions around the world. The Tony Hawk's Pro Skater series has cemented its place in Skateboarding history and has had a lasting impact on shaping our musical taste.
Like-wise, skateboarding videos have always been accompanied by a killer soundtrack. From the early video days to recent history, skaters like Daewon Song have used music to enhance the overall experience of their video part. Skate videos, such as the Toy Machine video 'Welcome to Hell', Alien Workshop's video Mind Field, or the classic Paul Rodriguez 'Yeah Right!' part certainly wouldn't be as spectacular without the use of carefully selected music like Nas' 'Get Down'. Skateboard cinematography has also come a long way since the early days. Roof gaps and other street spots are now captured with stunning visuals in 4K, but it's still the accompanying music that truly makes or breaks the part. With this in mind, we wanted you to feel like you are filming a video part each time you go out to skate.
Grab ya board and hit play on our Music To Skate To playlists and let the music inspire your skating. Hit the button below to grab some new gear for your next session.
---
Volume 5
Festive choons for your cold weather sessions
---
Volume 4
The Fourth Installment is here!
---
Volume 3
Curated by Warehouse Chris. Don't like it? Send him a piece of your mind @ chris@fireballsupply.co ...
---
Volume 2
A mix of 90s skate classics, punk, metal, hip-hop and more for your next session
---
Volume 1
The first installment of the Music to Skate to Playlist. Plug in & go skate