Fireball BEAST Longboard Wheels, 76mm, Black [Blemish]
Explore all Longboard Wheels →
USA Made Fireball Beast 76mm Longboard Wheels, in OG Black
The Beast is here. The first wheel release from Fireball, Beasts are designed to have you stoked no matter what your ride style.
First Contact
Beasts have offset cores with fat lips, allowing for the proper amount of grip when cornering and carving. However, the trademarked Fireball Slide Prepped(TM) surface allows you to break into a slide and create clean lines when you feel that urge. The angled lips create a progressively larger contact patch as the wheel is slowly worn down from rippin'slides.
Urethane to Core Ratio
Though our wheels may sound a bit on the harder side, Beast offers a ton of urethane relative to the size of the core,creating a smoother ride. Go harder for more yummy slippage and speed. Go softer for more grip 'round the bends.
Design Inspiration
The Beast is a perfect all around wheel in 76mm diameter. This means it can be used for casual riding as well as free ride and downhill. The beveled edges paired with the sandstone grind SlidePreppedTM is something not commonly found.
Pro Tip
If you ride favoring a heelside or toeside slide, rotate these wheels (switch front right with front left and back right withback left) at the first sign of coning to greatly increase the life and performance of The Beast. Artwork by Spring Break Jake
Specifications
Diameter: 76mm
Durometer: Black 87a
Contact: 49mm progressive contact patch
Width: 65mm
Ride Surface: SlidePrepped(TM)
Core Placement: Offset core (37%)
Special Features: Beveled lips for a progressive wear pattern and blending slip with grip
Disclaimer: Ride with caution and always wear a helmet.
With or without bearings?

Beast wheels are available solo or with a selection of 3 different Dragon Bearing styles, all of which are sealed with extremely tight non-contact labyrinth seals on the outside to prevent dirt and gunk from hindering performance. Oh, did we mention they're GUARANTEED FOR LIFE!

ENDURE: a thicker grease for unrelenting roll
RACE: a light oil for pure speed
BUILT: built-in spacers & speed rings to reduce slop & further improve durability 
Guarantee
We back the Fireball BEAST Longboard Wheels, 76mm, Black [Blemish] with our BEAST GUARANTEE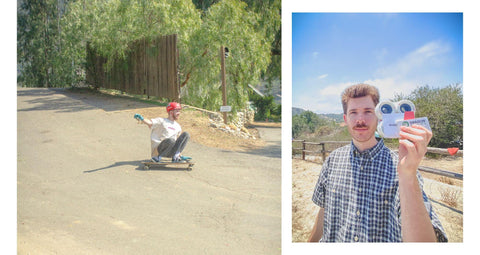 Shipping & Returns
We offer FREE SHIPPING on the Fireball BEAST Longboard Wheels, 76mm, Black [Blemish]
Questions?