Sk8ology Skateboard Deck Display Wall Mount
The heavy duty Sk8ology Deck Display is perfect for mounting your longboard or skateboard deck collection on the wall. This wall mount is designed to display your skateboards and not as a skateboard storage rack.
Why choose the Sk8ology skateboard deck display wall mount hanger?
The clear polycarbonate material provides increased strength and lighter weight vs standard Acrylic hanger racks. Sk8ology also use stainless steel hardware for extra strength when mounting your deck. The slim profile and clear material means the mount can hardly be seen once the skateboard is mounted, leaving the floating deck display to showcase your wall art with no distractions. The deck display can also be used as a longboard wall mount for your longboard deck.
What can I mount with the sk8ology Wall Mount?
Skateboard Decks
Longboard Decks
Penny Board Decks (If you really want to) 
Complete Skateboards (you would need to remove two bolts)
What can't I mount with the Sk8ology Wall Mount?
Surfboards
Snowboards
Electric Skateboards
Scooters
Guitars (although some guitar hangers may work instead)
How to install your skateboard wall mount:
Installation is simple and quick with just one screw or dry wall anchor (included). Each skate deck can be mounted for easy removal or locked on the wall (great for California earthquakes). Comes with a lifetime guarantee.
Each pack includes:
Sk8ology Deck Wall Mount rack (one per pack)
Mounting hardware
Instructions
Unit ships unassembled and without a drill bit. 
If two are purchased, you can mount a deck horizontally. 
Psst. if you're in the market for some new artwork, be sure to scope our Artist Series Skateboard Decks and pick up a deck before they're gone for good!
Guarantee
We back the Sk8ology Skateboard Deck Display Wall Mount with our BEAST GUARANTEE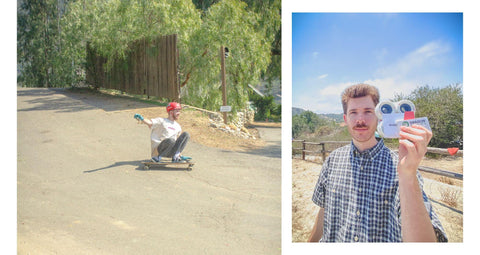 Shipping & Returns
We offer FREE SHIPPING on the Sk8ology Skateboard Deck Display Wall Mount
Questions?