Dragon BUILT Bearings Single Bearing [NO PACKAGING]
Fireball Dragon BUILT Bearings for Longboards and Skateboards
Bearing Overview
🟦  BUILT-IN DRAGON BEARINGS - Designed for reduced slop (bearing movement) and perfect alignment, eliminating the need for separate spacers
🔥  LABYRINTH SHIELDS - Unlike other built-in bearings, Dragons come standard with a signature Labyrinth shield for unparalleled protection from the elements and maximum lubrication retention
🔥  PREMIUM BUILD QUALITY - Each bearing uses the highest grade steel and comes complete with a Nylon ball cage (for reduced friction for a fluid roll) and Labyrinth seals (for improved longevity and lubrication retention). Install and forget - Dragons are designed to last
🔥  PRECISION FITMENT - Manufactured to our exact specifications, these 608 bearings measure 22mm (outer diameter) x 7mm (width) x 8mm (inner diameter/axle), with built-in spacer measurements of 5.1mm and a 0.65mm speed ring. Designed specifically for use in skateboards, longboards and electric skateboards
Built-in bearings, designed for life
Dragon BUILT Bearings are designed from the ground up for skateboarding and longboarding. Unlike other bearings on the market Dragons' offer our signature Labyrinth shields to help prevent dirt and debris from getting inside the bearing, drastically improving overall performance and life of your bearings. We're so confident we offer a lifetime warranty on the entire range! 
BUILT - These super durable bearings are lubricated with our signature grease formula to ensure that the weather doesn't ruin your skate session. We have tested these bearings for countless months in the South Bay of California and they have proven to hold up in salty, ocean air, wet conditions, through sand, and held their tight tolerances through the chunder riddled roads of Malibu.
Design Inspiration
We wanted to create a high end built-in bearing at a fair price. Each bearing is sealed with extremely tight non-contact labyrinth seal on the outside to prevent dirt and gunk from hindering performance.
Specifications
Axle Fitment: 8mm
ABEC Rating: None, designed specifically for action sport use
Measurement: 22mm (diameter) x 8mm (inner diameter) x 7mm (width), with built-in spacer measurements of 5.1mm and a 0.65mm speed ring
Special Features: Steel or Ceramic balls to match ride style
Guarantee
We back the Dragon BUILT Bearings Single Bearing [NO PACKAGING] with our BEAST GUARANTEE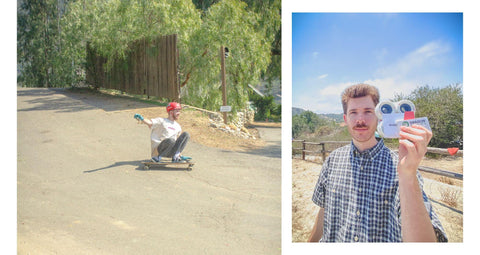 Shipping & Returns
We offer FREE SHIPPING on the Dragon BUILT Bearings Single Bearing [NO PACKAGING]
Questions?